PROFILE
Brian Wall was born in London in 1931, and as a child he experienced the London Blitz during World War II before being evacuated to Yorkshire. Following his return to London after the war, he left school while a teenager to work as a glassblower. After serving as an aerial photographer in the Royal Air Force, he began his artistic career as a painter in the early '50s.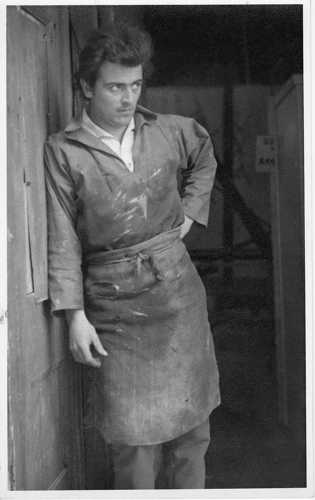 In 1954 Wall moved to St. Ives, Cornwall, known for its colony of abstract artists including Barbara Hepworth, Ben Nicholson, Patrick Heron, and Terry Frost. Wall worked as assistant to Barbara Hepworth from 1955 to 1960, and constructed wood reliefs and sculptures painted in primary colors. In 1956 he began to make welded steel sculptures, considered among the earliest abstract steel sculptures produced in England.
Wall's first solo show was held in London in 1957 at the Architectural Association, and his work was included in group shows including the Arts Council Exhibition Contemporary British Sculpture in 1958. The first article on his work was published in Architectural Design in 1959.
SOLO EXHIBITIONS
1957 School of Architecture, London
1959 Drian Gallery, London
1960 Drian Gallery, London
1962 Grabowski Gallery, London
1963 Manchester City Art Gallery, England
1964 Grabowski Gallery, London
1966 Grosvenor Gallery, London
1967 Arnolfini Gallery, Bristol, England
1968 Grosvenor Gallery, London
1971 William Sawyer Gallery, San Francisco
1973 San Jose State University Art Gallery, California
1974 Quay Gallery, San Francisco
St. Mary's College, Moraga, California
1976 Braunstein/Quay Gallery, San Francisco
Dootson/Calderhead Gallery, Seattle
University of Nevada, Las Vegas
1977 Sculpture Now, New York
1978 Sculpture Now, New York
1979 Max Hutchinson Gallery, Houston
Braunstein/Quay Gallery, San Francisco
1981 Max Hutchinson Gallery, New York, Catalogue
1982 California State University at Stanislaus
"Brian Wall: Retrospective," Seattle Art Museum, Washington, Catalogue
1983 "Brian Wall: Retrospective," San Francisco Museum of Modern Art, Catalogue
John Berggruen Gallery, San Francisco
1987 Simon Lowinsky Gallery, New York
1992 Francis Graham-Dixon Gallery, London
1995 "Brian Wall: Lyrical Steel," Sheldon Memorial Art Gallery, University of Nebraska, Catalogue
Jernigan Wicker Fine Arts, San Francisco
1998 Simon Lowinsky Gallery, New York
1999 Jernigan Wicker Fine Arts, San Francisco, Catalogue
Flowers East, London
2002 Flowers West, Santa Monica, Catalogue
2005 455 Market Gallery, San Francisco
2006 Flowers East, London
Hackett-Freedman Gallery, San Francisco
2008 Flowers Gallery, New York
2011 Flowers Central, London
Hackett | Mill, San Francisco
2015 "Brian Wall: Squaring the Circle," de Saisset Museum, Santa Clara University, Catalogue
SELECTED GROUP EXHIBITIONS
1958 "Contemporary British Sculpture," Arts Council, London
1960 "Benjamin, Tilson, Wall," AIA Gallery, London
"Purchases and Acquisitions for 1959," Art Gallery of New South Wales, Sydney
1961 Second Paris Bienniale, Musee d'Art Moderne, Paris
Sixth Congress I.U.A., South Bank, London
"6 painters, 2 sculptors: Anthony Benjamin, Peter Blake, Oliver Bradbury, Peter Hobbs, John Hoskin, Robert Law, Brian Wall, Brian Young," Rawinsky Gallery, London
1962 "Joven Escultura Inglesa," Gallery Ateneo, Madrid and Museum of Modern Art, Bilbao
"Contemporary British Sculpture," Arts Council, London
1963 "British Art Today," San Francisco Museum of Modern Art; Museum of Contemporary Art, Dallas; Museum of Art, Santa Barbara, California
118, Kasmin Gallery, London,
1964 "The London Group Jubilee," Tate Gallery, London
1965 "Sculpture of the Sixties," Tate Gallery, London
1966 "Fifty Years of Sculpture," Grosvenor Gallery, London
"Sculpture in the Open Air," Greater London Council, Battersea Park, London, Catalogue
1968 "New British Sculpture and Painting," Organized by Whitechapel Art Gallery for UC Galleries: University Art Museum, Berkeley, California; Portland Art Museum, Oregon; Vancouver Art Gallery, British Columbia; Museum of Contemporary Art, Chicago; Contemporary Arts Museum, Houston. Catalogue
"British Sculpture and Painting, Collection of the Leicestershire Education Authority", from the Whitechapel Art Gallery, London, Catalogue
"Contemporary Arts Fair," Strozzi Palace, Florence, Catalogue
Exhibition of British Sculpture, Coventry Cathedral, England, Catalogue
"New British Sculpture," Arnolfini gallery, Bristol, England, Catalogue
Open Air Sculpture, Festival of London
"Sculpture in a City," Birmingham, Liverpool, and Southampton, England, Catalogue
1969 "Open Air Sculpture," Scottish Arts Council, Edinburgh, Aberdeen and Dundee, Catalogue
1970 Holland Park Sculpture Exhibition, London
"British Sculpture Out of the Sixties," Institute of Contemporary Art, London, Catalogue
1972 "British Sculptors '72," Royal Academy of Arts, London, Catalogue
1974 "Serra, Wall, Zecher," San Francisco Art Institute, Catalogue
"Sixteen West Coast Artists," Galerie Allen, Vancouver, British Columbia
"Public Sculpture/Urban Environment," Oakland Museum, California, Catalogue
1976 "Bay Area Sculpture Retrospective," James Willis Gallery, San Francisco
"20 American Sculptors," University of Texas, Dallas,
1977 "Inaugural Exhibition," Max Hutchinson Gallery, Houston
"A Silver Jubilee Exhibition of Contemporary British Sculpture," Battersea Park, London
"Outdoor Sculpture," City of Palo Alto, California
1979 "Aspects of Abstract," Crocker Art Museum, Sacramento, California, Catalogue
1980 "Sculpture in California 1975–80," San Diego Museum of Art, California, Catalogue
"Eleventh International Sculpture Conference," Washington, D.C., Catalogue
1981 "Polychrome," Hansen Fuller Goldeen Gallery, San Francisco
"British Sculpture in the Twentieth Century, Symbol and Imagination 1951-1980,"
Whitechapel Art Gallery, London, Book
"Shidoni's Sixth Annual Outdoor Sculpture Exhibition," Shidoni Foundry and Gallery, Tesuque,
New Mexico
"Sculpture Now: Contemporary American Sculpture," Park West Gallery, Southfield, Michigan
1982 John Berggruen Gallery, San Francisco
"Forgotten Dimension: A Survey of Small Sculpture in California," Fresno Arts Center,
California, Traveling through 1984, Catalogue
"One Hundred Years of California Sculpture," Oakland Museum, California, Catalogue
"Twelfth International Sculpture Conference," Oakland, California
1983 "The Planar Dimension: Geometric Abstraction by Bay Area Artist," Civic Arts Gallery,
Walnut Creek, California
1985 "St. Ives: 1939 – 64," Tate Gallery, London, Catalogue
1986 "40th Annual San Francisco Arts Commission Festival," Civic Center Plaza, San Francisco
"Sculpture and Works in Relief," John Berggruen Gallery, San Francisco
1987 "New Acquisitions," John Berggruen Gallery, San Francisco
"Sculpture Fields," Max Hutchinson Gallery, Kenoza Lake, New York
"The Ethnic Idea," Berkeley Art Center, Berkeley
Faculty Drawing Show, Worth Ryder Gallery, U.C. Berkeley
1988 "Bay Area Sculpture: Metal, Stone and Wood," Palo Alto Cultural Center, Palo Alto
"Post-War British Abstract Art," Austin/Desmond Fine Art, London
1989 Art Against AIDS/San Francisco, Butterfield & Butterfield, San Francisco
Faculty Show, Worth Ryder Art Gallery, U.C. Berkeley
1992 "Wagner, Wall, Wareham," Pacific Rim Sculpture Group, Contract Design Center,
San Francisco
"Annesley, Levy, Twyford, Wall," Tallberg Taylor Gallery, Greenwich, England
1994 "The Constructed Space: Painting, Sculpture and Verse Commemorating the Poet W.S.
Graham," The Mansion House, Ilkley, England, Catalogue
"16 California Artists: Selection from San Francisco Bay Area," Galerie Sho, Tokyo
"Bell, Benjamin, Wall," Isis Gallery, Leigh-on-Sea, England, Catalogue
1995 "Abstract British Art: Sculpture," Flowers East, London
1996 "Abstract British Art: Drawings," Flowers East, London
1997 U.C. Berkeley Art Faculty, President's House, Berkeley
1998 "Navy Pier Sculpture Exhibition," Chicago
1999 Flowers West, Santa Monica, California
2000 Flowers West, Santa Monica, California
2001 "After Trewyn," Belgrave Gallery, London and St. Ives, Cornwall
2002 Flowers East, London
2003 Flowers West, Santa Monica, California
"Transition: British Art in the 50's," Barbican Gallery, London, Catalogue
2004 "Small-Scale Sculpture: Movement and Form," Hackett-Freedman Gallery, San Francisco
"Trevor Bell Retrospective: Influences," Tate Gallery, St. Ives, Cornwall
2005 "Thirty-Fifth Anniversary Exhibition," Flowers Central, London
2007 "The Passionate Gesture," Hackett-Freedman Gallery, San Francisco
2008 "British Abstract Art: 1950–1985," Portland Gallery, London, Catalogue
2009 "Synchronies: Undercurrents in Postwar European and American Abstraction," Hackett I Mill,
San Francisco
"The Sculpture Show," The Biscuit Factory, London
"Unfinished Business: Mark Wilsher," Henry Moore Institute, CHELSEA Space, London, Catalogue
"Post War and St. Ives," Paisnel Gallery, London, Catalogue
2010 "Modern Masters: Selection of Works by Gallery Artists," Flowers Central, London
2011 "In honor of Brian Wall's 80th Birthday," Tate Gallery, London
"Pissed Elegance," Stephen Cohen Gallery, Los Angeles
2012 "Sculptor's Drawings," Pangolin Gallery, London, Catalogue
"Concrete Parallels," Centro Brasileiro Britanico Gallery, Brazil, Catalogue
"British Sculpture: Anthony Caro, Phillip King, Denis Mitchell, Eduardo Paolozzi, Michael Sandle,
Brian Wall," Flowers Central, London
2013 "Defying Gravity: The Subject of Space," Hackett | Mill, The Armory Show, New York
2016 "The Best of Decades: Painting and Sculpture of the 1960s from the Collection," Dublin City Gallery The Hugh Lane, Dublin
2017 "21 to Watch," Bivins Gallery, Dallas
"Sculpture in the Sixties," Pangolin, London, Catalogue
"City Sculpture Projects 1972," Henry Moore Institute, Leeds
"Drawings, Prints, and Graphic Works by Sculptors," Alpha 137 Gallery, New York
"Modern Art and St Ives: Construction in Painting and Sculpture after 1950," Tate St Ives
2018 "Collective Vision," Bivins Gallery, Dallas
2019 "A Life with Art: Gifts from Dwight and Sue Emanuelson," Columbia Museum of Art, South
Carolina
PUBLIC COLLECTIONS
Art Gallery of New South Wales, Sydney, Australia
Arts Council of Great Britain
Berkeley Art Museum and Pacific Film Archive, California
British Council, London
Columbia Museum of Art, South Carolina
Contemporary Art Society, London
Cornwall Education Committee, England
Crocker Art Museum, Sacramento, California
de Saisset Museum, Santa Clara University, California
Dublin City Gallery The Hugh Lane, Dublin, Ireland
Fitzwilliam Museum, University of Cambridge, England
Gulbenkian Foundation, London
Leicestershire Education Authority, England
National Gallery of Art, Washington, D.C.
Oakland Museum of California
Penwith Society, St. Ives, Cornwall, England
Rhode Island School of Design Museum, Providence
San Antonio Museum of Art, Texas
San Jose Museum of Art, California
Seattle Art Museum, Washington
Sheldon Memorial Art Gallery and Sculpture Garden, University of Nebraska, Lincoln
Tate, London
Town Center, Thornaby, England
Triton Museum of Art, Santa Clara, California
Towson State University, Maryland
University of Houston, Texas
Whitworth Art Gallery, University of Manchester, England
BIBLIOGRAPHY
Herbert Read, Contemporary British Art, London, Great Britain: Penguin Books, 1951, plate 12A
Keith Sutton, "Going to St. Ives," Art News and Review, 19 July 1958
Architectural Design, May 1959, (artist's statement and illustration)
Michel Seuphor, Sculpture of This Century, New York: George Brazillier, Inc., 1960
Norbert Lynton, "London Letter," Art International, November 1961
Anthony Tucker, "MICA EXHIBITION in Manchester," The Guardian, 8 May 1962
George Butcher, "Review: The London Galleries," The Guardian, 18 July 1962
"Two Masters of Form," The Times, 2 March 1964
Norbert Lynton, "London Letter," Art International, vol. III, no. 3, April 1964, pp. 77–78, ill..
"Latest Developments in British Sculpture," Art & Literature II, Summer 1964
Nigel Gosling, "Art: Leicester comes to town," Observer Weekend Review, 13 September 1964
"London Letter," Art International, October 1965
"In the World of Art," Daily Mirror, 31 December 1965, ill.
Norbert Lynton, Studio International, 1965, vol. IX, pp. 9–10
Charles S. Spencer, "Brian Wall: Sculptor of Simplicity," Studio International, March 1966, ill.
Norbert Lynton, "New Sculpture: Brian Wall," Art and Artists, April 1966, pp. 24–27, ill.
Andrew Causey, "New Sculpture by Brian Wall," Illustrated London News, 9 April 1966, ill.
Griffith Williams, "Sculptors Come into Line," Cardiff Western Mail, 16 April 1966
Edwin Mullins, "Art," London Sunday Telegraph, 17 April 1966
Charles S. Spencer, "London Show Offers Brian Wall Sculpture," New York Times, International Edition, 19 April 1966
"The Sheet-Iron Assemblies of Mr. Brian Wall," London Times, 20 April 1966
Nigel Goslin, London Observer, April 1966
Norbert Lyton, Manchester Guardian, April 1966
John Russell, "Art," London Sunday Times, April 1966
London Art News, Summer 1966
Bryan Robertson, "Microcosm," The Spectator, 28 April 1966, p. 16
David Thompson, The Queen, 1966
Christopher Andreae, "Sculpture to see all at once," The Christian Science Monitor, 30 November 1966, ill.
Bryan Robertson, John Russell, Lord Snowdon, Private View, London: Thomas Nelson & Sons, Ltd.,
1966, pp. 108, 254-55, Ill.
Brian Wall, Arnolfini Gallery, Bristol, Great Britatin, (artist's statement), 1967
David Thompson, "A Decade of British Sculpture," Cambridge Opinion no. 37, 1967
Henry J. Seldis, "New British Painting and Sculpture in Exhibition," Los Angeles Times, 14 January 1968
Manchester Guardian, 25 March 1968, ill.
"Impatient Sculpture Unveils Itself," Evening Gazette, 25 March 1968, ill.
"Thornaby Reborn," Thornaby Tribune, March 1968, ill.
Kenneth Coutts-Smith, "London: Lines of Influence," Art and Artists, September 1968
Norbert Lynton, "Out on a Lim," Manchester Guardian, 30 September 1968
Kenneth Coutts-Smith, "Hundreth Exhibition," Sculpture International, vol. II, no.3, October 1968, ill.
Eddie Wolfram, "Brian Wall," Arts Review, 12 October 1968
John Russell, "Art," London Sunday Times, 13 October 1968
"Large Sculpture for Thornaby," Sculpture International, vol. II, no. 3, October 1968, ill.
"British Galleries at the Florence Fair," Studio International, November 1968, ill.
R.C. Kennedy, Art International, London, vol. XII, 10 December 1968, ill.
Brian Wall: Retrospective, New York, New York: E.S.M. Documentations, (includes 44 slides), 1969
G.S. Whittet, "Question and Artist: Brian Wall," Sculpture International, vol. 3, no. 1, October 1969, pp. 44–49, ill.
Sculpture International, October 1969, (artist's statement)
Donald J. Irving, Sculpture, New York: Van nostrand Reinhold Co., p. 27, ill., 1970
Jerome Tarshis, "San Francisco: Group show at Oakland Museum," Artforum, Summer 1971
Arthur Bloomfield, "Art Like a Child's Playground," San Francisco Examiner, April 1971, ill.
Thomas Albright, "Steel Sculpture…," San Francisco Chronicle, 6 April 1971
Artweek, 17 April 1971, ill.
James Dickey, "Sculpture," San Jose News, California, 13 July 1973, ill.
Thomas Albright, "Unusual Art in San Francisco," San Francisco Chronicle, 7 January 1974
"Monumental, Simple Sculpture," San Francisco Chronicle, 16 January 1974, ill.
Arthur Bloomfield, San Francisco Examiner, 16 January 1974, ill.
Sylvia Brown, "Brian Wall," City Magazine, San Francisco, January 1974, p. 28, ill.
Cecille McCann, Artweek, 19 January 1974, ill.
St. Mary's Collegian, 15 March 1974, ill.
Art Perry, "West Coast Exhibit," Vancouver Province, Washington, 17 August 1974
Alfred Frankenstein, "A Gallery Full of Sculpture," San Francisco Chronicle, 29 January 1976
"First Principles of Sculpture," San Francisco Chronicle, 5 February 1976
Robert McDonald, "The Finiteness of Form," Artweek, 21 February 1976
Charles Shere, "Impressive Showing of Bay Area Sculpture," Oakland Tribune, 22 February 1976
R.M. Campbell, "Two Interesting Sculpture Shows," Seattle Post-Intelligencer, Washington, May 1976, ill.
Peter Selz, "Brian Wall At Braunstein/Quay," Art in America, May-June 1976, ill.
Hilton Kramer, New York Times, 13 May 1977
Joanne Dickson, "Public Sculpture in Palo Alto," Artweek, 30 July 1977, ill.
William Zimmer, "Brian Wall: Sculpture Now," Arts Magazine, New York, vol. 52, no. 1, September 1977, ill.
Thomas Albright, "A Conception of Balance," San Francisco Chronicle, 9 September 1978, ill.
Joanne Dickson, "Lines and Planes in Tension and Harmony," Artweek, 30 September 1978, ill.
Thomas Albright, "San Francisco," Art News, January 1979
John Russell, "Three Striking Current Shows," New York Times, 7 January 1979, ill.
Charlotte Moser, "Artist's Work Exploits Three Minimal Themes," Houston Chronicle, 31 March 1979
Robbie Ehrlich, "Brian Wall," Arts Magazine, April 1979, p. 26, ill.
Knute Stiles, "Brian Wall at Braunstein/Quay," Art in America, May–June 1979, pp. 3, 153–155, ill.
Rick Glaze, "Thirty Years of Recent Sculpture," Palo Alto Weekly, California, 6 December 1979
New York Times, 12 April 1981, ill.
Sandy Nairne and Nicholas Serota, ed. British Art in the Twentieth Century, London, Whitechapel Art
Gallery, 1981, pp. 180, 263
Regina Hackett, "Opposites," Seattle Post-Intelligencer, Washington, 2 July 1982, ill.
Ron Glowen, "Brian Wall: Tempering Toughness with Elegance," Artweek, 31 July 1982, p. 1, ill.
Hugh J. Delehanty, "Public Sculpture: Who Chooses? Who Loses?," Focus, August 1982, pp. 26–29, ill.
Al Morch, "S/12: Sculpture Around the Bay" San Francisco Examiner, 4 August 1982
Brenda Lane, "Installing Sculptures Takes Brains, Brawn," Oakland Tribune, 12 August 1981, ill.
"Brian Wall: Sculpture, 1950-1982," Sculptors International, August 1982, vol. 1, no.3, pp. 20, ill.
Leo Stutzin, "Sculpture Almost Defies Gravity," Modesto Bee, California, 7 November 1982, ill.
Patricia Failing, "Sculpture Almost Defies Gravity," Art News, November 1982, pp. 155–56, ill.
Sandy Ballatore, "Sculpture Conferencing – A Personal Response," Images and Issues, November–December
1982, pp. 40–44, ill.
Carol Fowler, "Sculpture That is Definitely Off the Wall," Contra Costa Times, 16 January 1983, ill.
Thomas Albright, "Tough and Elegant Sculpture," San Francisco Chronicle, January 1983, ill.
Charles Shere, "Gallery Roundup," Oakland Tribune, 20 January 1983
Al Morch, "Abstract Sculpture Says a Lot," San Francisco Examiner, 24 January 1983, ill.
Dorothy Burkhart, "Constructivist Sculptor Builds the Right Angles," San Jose Mercury News, 27
January 1983, ill.
Suzanne Simpson, "Gazetteer," Nob Hill Gazette, San Francsico, February 1983
"Brian Wall: Early Yellow," Lively Arts, February-March 1983, p. 7, ill.
Art Now/California Gallery Guide, March 1983, p. CA-17, ill.
Thomas Albright, "Lines, Cubes and the Root of the Abstract," San Francisco Chronicle, 17 April 1983, p. 12
"Brian Wall," Art News, May 1983, p. 135
Andrea Liss, "Bay Area Geometric Abstraction," Artweek, 7 May 1983, pp. 1,16
Julie Anixter, "Brian Wall Retrospective at San Francisco Museum of Modern Art and Seattle Art
Museum," Images and Issues, May–June 1983, pp. 44–46, ill.
Trends and Testimonies of Contemporary Art, Accademia Italia, Salsomaggiore, Italy, 1983, ill.
Thomas Albright, "Artist Who Alludes to Human Form," San Francisco Chronicle, 1 July 1983, pp. 42
Alice Miller, "Urban Sculpture Garden," Berkeley Gazette, California, 1 November 1984, pp. 8–9, ill.
Thomas Albright, Art in the San Francisco Bay Area: 1945–1980, Berkeley, California: University of
California Press, 1985, pp. 224–225, ill.
Alan Bowness, et al. St. Ives 1939-64, London: Tate Gallery Publications, 1985, pp. 33,
109–112, 114,116, 124, 144, 199, ill.
Kenneth Baker, "S.F. Arts Festival to Focus on Outdoor Sculpture," San Francisco Chronicle, 22 April 1986
Sculpture and Works in Relief, John Berggruen Gallery, San Francisco, 1986, pp. 66–67, ill.
Foreword by Henry T. Hopkins.
Zyzzyva, June, 1987, San Francisco, ill.
Dorothy Burkhart, "P.A. Show Follows Sculptural Traditions," San Jose Mercury News, 18 March 1988
Jane Ayers, "Important Images in Metal Stone and Wood," Peninsula Times Tribune, 20 March 1988, ill.
Peter Davies, The St. Ives Years, England: International Standard Books, 1988
Margaret Garlake, Post-War British Abstract Art, London: Austin/Desmond Fine Art, London, 1988, ill.
Christopher Andreae, "A Collage of Steel Elements," The Christian Science Monitor, Boston, October 5,
1992, p. 16, ill.
David Mellor, The Sixties Art Scene in London, London: Phaidon, 1993, pp. 91, 97, 102
Peter Davies, St. Ives Revisited: Innovators and Followers, Gwent, United Kingdom: Old Bakehouse Publications, , 1994
Chris Stephens, The Constructed Space: Painting, Sculpture and Verse Commemorating the
Poet W.S. Graham, City of Bradford Metropolitan Council, 1994
Chris Stephens, Bell, Benjamin, Wall, Isis Gallery, Leigh-on-Sea, England, 1994
Brian Wall, "Wall's Eye," Art Review, London, September 1994
George Neubert and Jon Carroll, Brian Wall: Lyrical Steel, Sheldon Memorial Art Gallery and Sculpture
Garden, University of Nebraska, Lincoln, 1995
Peter Davies, "The Supple Heavy Metal Man," World Sculpture News, winter, 1998, ill.
Peter Davies, Brian Wall: Sculpture, Jernigan Wicker Fine Art, San Francisco, 1999, ill.
Peter Davies, After Trewyn: St. Ives Sculptors Since Hepworth, Old Bakehouse Publications, Gwent,
U.K., 2001, ill.
Norbert Lynton, Brian Wall, Flowers West, Los Angeles, 2002, ill.
Isabel Anderson, "Brian Wall at Flowers West," ArtWeek, June 2002, p. 18, iII.
Martin Harrison, "Transition: British Art in the 50's," Barbican Gallery, London, 2003, ill.
Suzanne Muchnic, "Maximal Exposure," Los Angeles Times, 14 March 2004, p. E41
Anthony Caro and Ian Barker, Anthony Caro: Quest for the New Sculpture, Lund Humphries/Ashgate
Publishing, Hampshire, England, 2004, pp. 96, 113, 121, 170
Philip F. Palmedo, Joel Perman: A Sculptor's Journey Abbeville Press, NY, NY, 2006, ill.
Martin Harrison, In Camera-Francis Bacon: Photography, Film and the Practice of Painting, Thames &
Hudson, Inc., New York, 2006, pp. 139, 141
Chris Stephens, Brian Wall, Momentum, London, 2006, ill. Foreword by Suzaan Boettgar.
Peter Davies, St. Ives 1975-2005 Art Colony in Transition, St. Ives Printing & Publishing Company,
Cornwall, England, 2007, pp. 31–32
Andrew Lambirth, Roger Hilton, Thames & Hudson, Inc., New York, 2007, pp. 129, 150
Kenneth Baker, "Heron's colors obliterate figure and ground," San Francisco Chronicle, 9 February 2008, ill.
Robert Ayers, "Brian Wall," blouinartinfo.com, 28 January 2008,
(cited 26 January 2017)
Norbert Lynton & Ian McKay, Bernard Cohen, Flowers Publishing, London, 2009, pp. 16
Chris Stephens, Trevor Bell, Sansom & Company, Ltd., Bristol, England, 2009, pp. 70-72, ill.
Zyzzyva, Spring, 2010, San Francisco, California, ill.
William Turnbull, "Beyond Time," Waddington Galleries, London, 2010, p.12
Kenneth Baker, ARTnews, October 2011, p. 113, ill.
Kenneth Baker, "Wall's Sculptures Make Steel Float," San Francisco Chronicle, 23 July 2011, ill.
Clarrie Wallis and Andrew Wilson, Barry Flanagan: Early Works 1965-1982, Tate Publishing, London,
2011, p. 135
Kara Kaczmarsky, "Brian Wall," Re: Sculpture International Sculpture Center. Web. 25 January 2012
Daniel Grant, "Broad International Demand For Brian Wall's Abstract Sculptures," ARTnews, 17 January 2012, < http://www.artnews.com/2012/01/17/broad-international-demand-for-brian-walls-abstract- sculptures/> (cited 26 January 2017)
Mary Jo Bowling, "Life as Art: A Gallery Owner Takes His Work Home," CA Home & Design, April
2012, pp. 114, 117, ill.
Peter Selz, "San Francisco-Brian Wall: Hackett | Mill," Sculpture Magazine, Vol. 31 no. 4, May
2012, pp. 68–69, ill.
Pete Townshend, Who I Am: a Memoir, Harper Collins Publishers, New York, NY, 2012, p. 49
Rungwe Kingdon and Frances Carey, Sculptors' Drawings and Works on Paper, Pangolin London and Kings Place Gallery, August 2012, p. 222, ill. Foreword by James Darkins.
Camila Belchior, "Paralelas Convergentes," Bamboo Magazine, Brazil, pp. 62–63, ill.
Maria Alice Milliet, Gloria Carnevali, Sam Gathercole, and Ferreira Gullar, Concrete Parallels: British Constructivism, Brazilian Concrete, and Neoconcrete Art, Dan Galeria, 2013, pp. 25, 27, ill.
David Fedfern, The London Group: a history 1913–2013, The London Group, 2013, pp. 215–217, 226, 396
Nancy Durrant, "Barbara Hepworth: As an artist she was on par with…" The London Times, Sunday Review,
London, 6 June 2015
Peter Selz, Paul Karlstrom, Lindsey Kouvaris, and George Neubert, Brian Wall: Squaring the Circle,
Hacket | Mill and the de Saisset Museum, University of Santa Clara, Santa Clara, CA, 2015
Sheryl Nonnenberg, "Brian Wall: Squaring the Circle," metroactive.com, 22 April 2015, (cited 26 January 2017)
Sadie Stein, "Rough and Ready," Elle Décor, no. 233, March 2017, pp. 125, 126, 129, ill.
Julia Beaumont-Jones, A Century of Prints in Britain, Arts Council Collection and Hayward Publishing, 2017, pp. 118–119, ill.
"City Sculpture Projects 1972," Leeds: Henry Moore Institute, 2017, pp. 2, ill. 3, 44
Sophie Bowness, Barbara Hepworth: The Sculptor in the Studio, London: Tate Publishing, 2017, p. 61
David Whittaker, St Ives Allure: Engagements with Art and Place in West Cornwall, Charlbury, England:
Wavestone Press, 2018, pp. 32–33, ill. 32
Chris Stephens, St. Ives: the Art and the Artists, London: Pavilion Books Company Ltd. and Tate, 2018,
pp. 122¬–126, 154, 215, 218, 221, 228, 259,z ill. 124, 155
María C. Gaztambide, On Site: 50 Years of Public Art of the University of Houston System, New York: Scala
Arts Publishers, Inc., 2019, pp. 17, 38, ill. 36–37, 274
FILMOGRAPHY
1966 "Untitled Black" (1964) featured in the film "Morgan: A Suitable Case for Treatment,"
director Karel Reisz, producer Leon Clore, Anchor Bay
1966 "Four Elements" (1965) featured in the film "Blow-Up," director Michelangelo Antonioni,
producer Carlo Ponti, Metro-Goldwyn-Mayer
1969 Grosvenor Gallery solo exhibit featured in the film "Take a Girl Like You," director Jonathan Miller, producer Hal E. Chester, Columbia Pictures
1982 interview for "Segment Two," KTVU, Oakland, CA
2003 interview for "The Art of Barbara Hepworth," presenters Chris Stephens & Penelope Curtis,
Illuminations
2009 interview for "The Art of Cornwall," director Spike Geilinger, producer Adam Kemp, BBC4
2010 interview for "William Turnbull: Beyond Time," directors/producers Alex Turnbull & Pete
Stern, Turnbull Studio & Waddington Galleries
2015 interviewed by Lily Cole for the "Barbara Hepworth: Sculpture for a Modern World," exhibition at Tate Britain, London, broadcast on BBC4 and BBC World News, June, 2015
WIKIPEDIA ARTICLE