AN IMPROBABLE ODYSSEY: THE LIFE AND TIMES OF BRIAN WALL
This documentary film provides an insider's view of three major international art centers during three turbulent decades of the 20th century from the unique perspective of British-born American sculptor Brian Wall.
Born in London in 1931, and despite an impoverished childhood during World War II and no formal art education, Wall has achieved renown for his abstract steel sculptures. We follow his remarkable journey from the modernist art center of St. Ives, Cornwall in the '50s to the Swinging London art scene of the '60s to his arrival in America in the '70s. He joined the faculty of the University of California at Berkeley at the height of the counterculture revolution and continues to live and work in the San Francisco Bay Area today.
The story is told through insightful interviews with the artist in his studio as well as art historians, museum curators, collectors and fellow artists who describe the creative ferment of the times and Wall's significant contributions. In addition, hundreds of archival photographs of art works and influential artists, musicians, and writers make this film a truly educational and inspirational experience.
Produced by Brian Wall Foundation. Directed by Peter Stern. 60 minutes.
---
FILM FESTIVALS
An Improbable Odyssey
has been selected by the
Architecture Design Art Film Festival
in Palm Springs, California, for screening on February, 18, 2023, with tickets available now.
The documentary was also selected by the Venice, California, Fine Arts Film Festival, the Berlin International Art Film Festival and the Sacramento International Film Festival for 2022. It was a Semi Finalist in the FilmArte Film Festival in Berlin and in the Blow-up Arthouse Film Fest in Chicago in 2023.
---

BRIAN WALL INTERVIEW WITH DR. CHRIS STEPHENS

This online interview was presented by the Henry Moore Institute in Leeds, England, following a screening of the film An Improbable Odyssey: The Life and Times of Brian Wall on December 8, 2021. Their conversation is informed by Dr. Stephens's longstanding relationship with the artist as author of the monograph Brian Wall, (Momentum, 2006) and his insightful participation in the documentary. Introduced by Dr. Clare O'Dowd, Research Curator, Henry Moore Institute.
Director of the Holburne Museum, Bath, England, since 2017, Dr. Stephens was a curator at Tate for more than 20 years, serving as Head of Modern British Art and Head of Displays at Tate Britain. Exhibitions in London and Tate St Ives included Barbara Hepworth: Centenary (2003), Henry Moore (2010), Picasso and Modern British Art (2012), Barbara Hepworth: Sculpture for a Modern World (2015). His book St Ives: The Art and the Artists was published by Pavilion in 2018.
Duration 52 minutes.
---
PALM SPRINGS FILM FESTIVAL Q&A WITH BRIAN WALL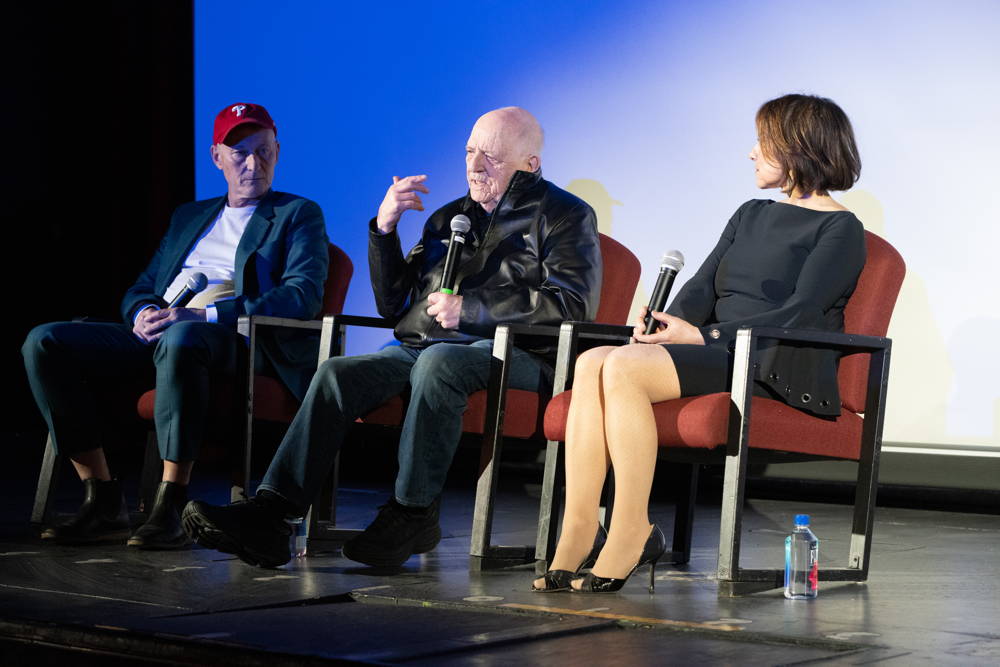 An Improbable Odyssey: The Life and Times of Brian Wall was screened in the 2023 Architecture Design Art Film Festival at the historic Plaza Theatre in downtown Palm Springs in conjunction with the city's annual Modernism Week. An onstage Q&A with artist Brian Wall and filmmaker Peter Stern was moderated by art advisor Jeremy P. Stone.
Peter Stern is a British-born international documentary filmmaker who specializes in the genre of visual and performing artists. Peter has previously worked with Gilbert & George, as well as William Turnbull, whose feature-length documentary, Beyond Time was broadcast on the BBC. Peter has also worked as a filmmaker with London based Moroccan artist Hassan Hajjaj and London based Moroccan artist Horace Ové, director of Britain's first black feature film in the early 1970s.
Jeremy P. Stone is a former gallerist, art advisor, appraiser, and collector who has advised many important private collectors, museums, and institutions. She has served on the board and held office on multiple levels with ArtTable, the American Society of Appraisers, and the San Francisco Art Dealers Association.
Duration 29 minutes.